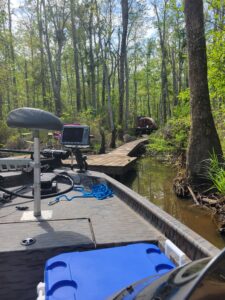 Article and photos by Andra Willis
My son and I stayed two nights in April on the Cypress Cathedral platform.  I took my aluminum bass boat in with a trolling motor.  This platform was barely deep enough to make it in and there wasn't a lot of space.  But my boat was perfect for it.  This platform is very secluded and highly unlikely to have fisherman very near.   The Three Sisters platform has a little deeper access.
We parked truck and trailer at the police station in Plymouth.  Fortunately I stuck my head in to tell them and found out they wanted information…..license plates of truck and trailer, dates, contact info, who was camping, emergency contact info, etc.  I was really glad i talked to them and grateful they cared and would watch out for us.  It was also nice to have a safe place to leave my truck.  The staff was so kind and helpful.
One day we tied up at a dock and ate at one of the little riverside restaurants.  Good food and outdoor seating was great.
I highly recommend a cheese biscuit breakfast sandwich at Jamesville Mini Market and Grill on 64 just  before Jamesville.  They make their biscuits fresh and they are incredible.
On the platforms no fire.  We used a backpacking stove to heat up water for freeze dried food and to wash up with.
For those with snake concerns, we saw snakes fishing the area, but we saw none around the platform.  I was told this was because too many people were there often and snakes don't like that.  There were however wasps, and i might bring bee spray.
We loved staying on the platform.  Thank you for building and maintaining them and making them available.