History of Rosenwald School

Since acquiring the circa 1920 Hamilton Rosenwald School (formerly known as the Hamilton Colored School)—Roanoke River Partners (RRP) have been working with regional partners to preserve this historic site (on the National Register since 1980). The vision for this renovated school is to serve as a river/visitor-community center and an interpretive site to celebrate both the region's Rosenwald School and its Underground Railroad history.
Donations can be made on-line or by mail as designated to the Hamilton Rosenwald School project to: Roanoke River Partners, PO Box 488, Windsor, NC 27983.
Future and Fundraising
A master plan to guide this renovation was completed in June 2019. We are currently seeking additional investment to assist us in reaching the tipping point to initiate construction.
If you have artifacts or information related to this project—or if you would like to learn more about this project—you can contact the researcher/project coordinator, Carol Shields, at cjshields1957@gmail.com or (252) 826-5719.
RRP thanks the many contributors of time, energy and money to this preservation project. With your help we are breathing "new life" into this historic school and with your continued support we will soon be able to open the doors of the Hamilton Rosenwald School to celebrate its over 100-year legacy!
Oral History Project
In addition to receiving a grant from The Conservation Fund (TCF) to assist with the purchase of this historic property in 2007— RRP was also awarded a TCF grant to conduct a related oral history project. This project included: research about this surviving school; meeting and interviewing alumni who attended this school; compiling a self-published book about the school; and convening a reunion event to bring interested parties together and to share project findings.
On September 11, 2010, a reunion was held at the Hamilton Fire Station to bring folks interested in the project together. Over 100 people from nine counties attended. Those in attendance included former Hamilton Rosenwald alums; alumni from other regional Rosenwald Schools; and a host of regional folks interested in this exciting preservation project.
To date, over 100 alumni who attended the former Hamilton Colored School have been identified and added to our database. Some have been interviewed in an effort to capture their memories of this historic school. Today, these former students who make up our database currently reside from Texas to Connecticut.
Among the related historical artifacts collected so far are: a desk bell used by Edna Andrews— a beloved teacher at the old school; a collector's set of McGuffey Readers and a primary book from the Dick and Jane series; an African American doll in period dress; a recipe for school soup; a segment of 16 mm film from 1939; and some old school photographs. Additionally, some books which contain information about the Hamilton School and others about Julius Rosenwald and related regional history have been gathered. Upon completion of this renovation, this growing collection of cultural heritage treasures will be housed in our Rosenwald River Center in Hamilton, NC.
Hamilton Rosenwald School Preservation Story: Preserving the memories, the faces and the place
This grant-supported book is entitled, Hamilton Rosenwald School Preservation Story: Preserving the memories, the faces and the place. It provides an overview of the project and its findings. Hundreds of copies of this book were sold to alums and others interested in this project from 2011 to 2020. Some copies were added to libraries across North Carolina. Unfortunately, the company that produced this book is now out of business and we are no longer able to purchase additional copies. For more information about this book, you can contact the researcher and project coordinator, Carol Shields, at (252) 826-5719.
Hamilton Rosenwald River Center Investors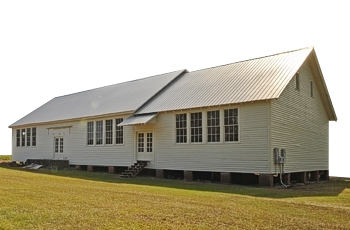 We greatly appreciate the investors listed below for their generous contributions towards the preservation and renovation of the Hamilton Rosenwald River Center.
Hamilton Rosenwald River Center Investors
Roanoke River Partners, Inc.
The Lowe's Charitable & Education Foundation Preservation Fund
The National Trust for Historic Preservation
The Conservation Fund's Resourceful Communities Program
Francis M. Barnes Charitable Trust
The Covington Foundation
Conservation Trust for North Carolina
Mid-East RC&D Council
The Town of Hamilton
Historic Hamilton Commission
Alan & Jackie Luria
Phil & Lisa Hodges
Mike & Irene Johnson
Margaret Newbold
The Randolph Family (Alumni)
Martha Thompson & family
Rev. Lorenzo Lynch (Alumni)
Devoted alumni & project volunteers
A host of private donors
Present Day Rosenwald River Center
Roanoke River Partners, Inc. and the Roanoke River State Trail River Center
203 E. Waldo Street
Hamilton, NC
Visitor center hours: TBD
This circa 1920 Rosenwald School will provide a headquarters for Roanoke River Partners, Inc. and the Roanoke River State Trail. Our facility and associated enhancements will equip this site to serve as a community center for the Town of Hamilton and for the entire Roanoke River Region. It will be a depository for Roanoke River history and riverine science exhibits; Roanoke River Underground Railroad history and artifacts exhibits which feature the Roanoke River as a part of the National Underground Railroad Network to Freedom; and an authentic Rosenwald School setting with associated historic artifacts, printed materials and oral histories. Incorporating both indoor/outdoor gathering space, our completed river/community center will facilitate regional events & activities and serve as office space for the Roanoke River Partners, Inc. and the Roanoke River State Trail.
Camping is available on site. Contact us for details.