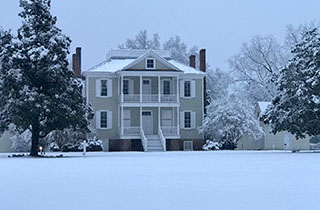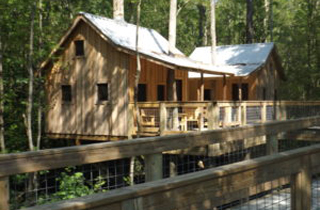 Town of Windsor Chartered 1768
The Town of Windsor is located in the Roanoke River Basin although not on the Roanoke River. The town is actually on the Cashie (Ca-shy) River which at one time drained into the Roanoke. The town serves as the County seat of Bertie County.
By the early to mid 1700's the Cashie River had a large population and much trading activity around a site known as Gray's Landing. This site was part of the Rose Field Plantation and belonged to William Gray. He had inherited the 1,000 acre plantation including the river landing from his father John Gray. By the late 1760's William Gray offered 100 acres of Rosefield Plantation for the construction of a town.
A petition for a new town to be erected at Gray's Landing was presented to the Assembly of North Carolina. The committee returned a report favoring Gray's Landing and on January 8, 1768 the Assembly passed a act to create Windsor on the Cashie River.
Windsor was not spared the ravages of the Civil War because after the fall of Roanoke Island near Plymouth, several forces occupied the entire area. There were some small scrimmages in and around town between Union and Confederate forces.
By the mid to late 1800's the Cashie River was being utilized as the primary means of shipping goods and supplies to and from the area. Shipping routes not only serviced the towns along the Roanoke, they also traveled to Norfolk, Va. and points north to Baltimore, Maryland.
The 1900's brought railroads and better highways to move goods in and out of the town. We have thrived with small industries and agriculture.
Today we are a small community that enjoys its heritage and shares our many historical and natural resources with ours visitors. These include but are not limited to the following: The Livermon Park and Mini Zoo, the Craftsman's and Farmers Museum (call the town office to make an appointment), the Roanoke Cashie River Center and Museum, Historic Hope Plantation (call for hours), the Wetlands Walk, and the Cashie River Tree Houses.  
The slow moving dark water of the Cashie River, the longest and deepest river starting and ending in one County in the World, offers recreational activities such as hunting and fishing, power boating activities and canoeing and kayaking .
There are activities and festivals all year long to enjoy such as: The Tee & Sea, Sage Festival, Blues, Brews and BBQ., Historical Homes tours and the Hoggard's Christmas lights.
We would like to invite you to visit Windsor, "It is not just a town it is a way of life."
For additional information:  Visit Bertie County and Town of Windsor.