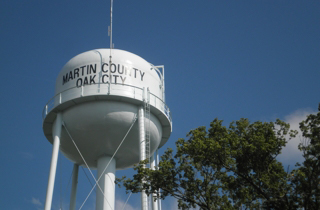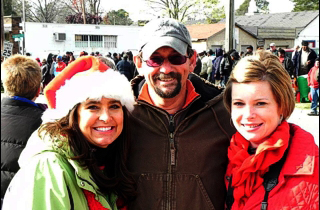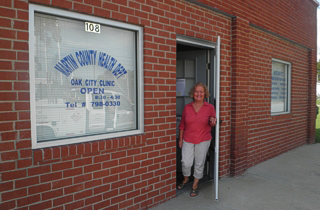 With the establishment of the "Goose Nest" post office in 1888, this community – which began in the early 1880s as a small, rural trading center around a collection of farmhouses – received its first official name. In 1905 the town's name was changed to Oak City because a town citizen visiting Raleigh saw "Oak City Laundry" on a delivery wagon and liked the name enough to urge the General Assembly to effect the change.
With farmers and traders attracted by the new Wilmington and Weldon Railroad service, Oak City enjoyed dramatic and steady growth during the early 20th century. By 1910 the population had more than doubled to 251 residents, and the town's educational and religious offerings expanded to meet the growing needs of this area. While commercial activity included a number of general stores and boarding houses, the industrial activity consisted of saw and planing mills, as well as a grist mill.
The proliferation of the automobile after the 1910s, accompanied by improvements in the county's roads, brought significant changes to Oak City. Residents were now able to visit larger towns, so merchants gradually reduced their offerings to cover the basic needs of locals. The end of passenger rail service in 1939 brought about an end to that chapter of town history. Today, the town remains a strong community in northwestern Martin County, with NC 125, NC 11 and NC 42 converging to bring visitors through town. St. Mark's Missionary Baptist Church, organized in 1883 as the 1st church for African-Americans in Goose Nest Township, is also located in the Oak City area but underwent considerable remodeling in 1968.
In addition to a number of local convenience shops and businesses, Oak City is proud to have a Senior Center which draws seniors from the surrounding communities to come together to eat daily and enjoy a variety of other social activities. Oak City has also recently acquired two full EMTs who partner with the Hamilton community to provide local service.
Oak City's two community events that occur annually include a 4th July gathering at the Towns Commons and a Christmas parade which has a large devoted following.  For additional information:  Visit Martin County and Town of Oak City.