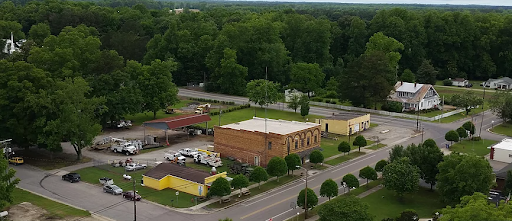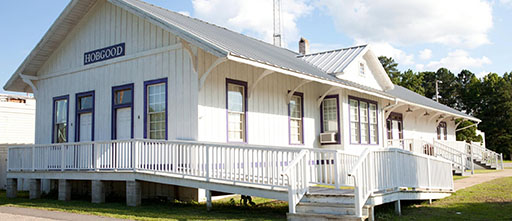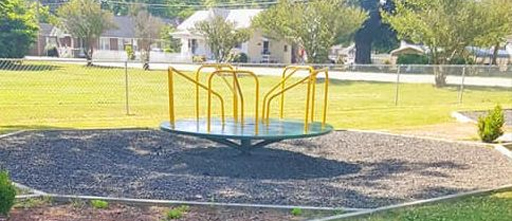 The Town of Hobgood lies at the southeastern tip of Halifax County at the intersection of highways 125 and 122 bordering the Edgecombe and Martin County lines. In 1889 – 90, the Atlantic Coastline Railroad established a rail head in-between the towns of Conohoe (present-day Oak City) and Scotland Neck. A depot was constructed during that time for this purpose. Very quickly, a town formed around it and was incorporated in 1891. It was named Hobgood after a Mr. Hobgood who lived approximately a mile away and operated a saloon/store that served travelers moving between the main thoroughfares of Halifax and Tarboro. In large part because of the railroad, the town flourished both economically, culturally and spiritually. As a primary embarkation point for people traveling to and from Virginia and beyond, the town attracted individuals from all walks of life. A large hotel was built to house the overnight travelers and Main Street was a flurry of activity with numerous shops and stores on both sides of the street.
As with communities across the nation, Hobgood has a proud heritage of achievement in a variety of areas and can boast of many native sons and daughters who have been very successful both educationally and professionally. James Hogun, noted Brigadier General of the Revolutionary War, Lt. General Frank Armstrong, noted World War II fighter pilot and 'Twelve O'clock High' fame, Miss North Carolina USA 1989, Jackie Padgette and recently retired Joint Chiefs of Staff Chairman General Hugh Shelton are just a few of the more notable examples who grew up within a two-mile radius of Hobgood.
           Located just 90 minutes from Raleigh, two hours from Williamsburg, Va. , two and one-half hours from Chesapeake, Va. and approximately two hours from Atlantic Beach, Hobgood offers a beautiful bucolic and rustic setting to its residents while close enough to several major cities and thoroughfares for quick access to shopping, recreation and medical care if needed.  For additional information:  Visit Halifax County and Town of Hobgood.