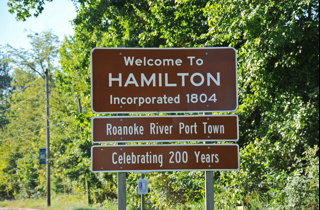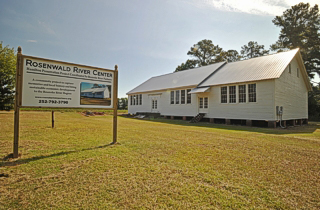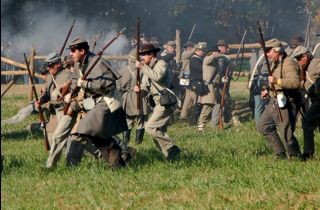 With a modest population of 465, the small town of Hamilton, North Carolina makes up for its size by being an undeniably historic community. Nestled along the Roanoke River, Hamilton has long enjoyed the privilege of being situated in a prime location surrounded by rich farm and wood lands as well as the diverse plant and animal life that the river fosters.
Incorporated in 1804, this vibrant little settlement originally known as Milton was renamed Hamilton in honor of former US Secretary of the Treasury Alexander Hamilton. Like many other towns in North Carolina in the early nineteenth century, Hamilton owes its early development to its location on a major waterway. Shallow-draft steamboats, a cotton gin and a burgeoning textile trade both at home and abroad brought river traffic to its peak during the years preceding the Civil War.
Hamilton's nationally recognized historic district is the prized asset of which the local community takes great pride. This district includes some of the finest antebellum homes assembled in Martin County. Among the noted sites featured within Hamilton's National Register of Historic Places District are St. Martin's Episcopal Church (circa 1880) and the Hamilton Colored (Rosenwald) School (circa 1918) as well as a host of other historic houses and buildings.
St. Martin's Episcopal Church was originally established as a missionary station in 1868. The founding of this church is attributed largely to the Boyle family which moved to Hamilton amidst the Civil War. Today this church stands as a remarkably unaltered and sophisticated example of the Gothic Revival frame church from the early post Civil War period. It is one of the most outstanding examples of frame Gothic architecture in Eastern North Carolina.
The Hamilton Historic Commission oversees the preservation, maintenance and meaningful use of St. Martin's in cooperation with the Episcopal Diocese of East Carolina. The Commission sponsors an annual Christmas service in the church and the building can also be open by appointment. In November of 2006, two beautiful commissioned panels by artist David Hewson were installed in St. Martin's. For more about Hamilton's history, see link at right.
Another point of interest in town, the old Hamilton Colored School- is one of the famed early Rosenwald Schools. Collectively, Rosenwald Schools were historically black schools built from 1913 to 1932 as a result of the fruitful collaboration that developed between philanthropist, Julius Rosenwald, and Booker T. Washington, educator and founder of the Tuskegee Institute.
The Rosenwald Fund provided supplemental funds for the construction of over 5000 rural schools to educate black children across the Southeastern United States. Only a precious few survive today. Those that remain have been earmarked as "endangered historic sites" by the National Trust for Historic Preservation. To read a blog about our Hamilton Rosenwald project see link below.
Recently, the Hamilton community has been working in conjunction with Roanoke River Partners, Inc. to renovate and preserve both this historic site and its culturally rich legacy. Upon completion, the Rosenwald River Center (the new name) will be repurposed as an interpretive site to tell the "Rosenwald Story" as well as a visitor/community center for gatherings and eco-tourism ventures. In its new life, this historic site will contribute to both local and regional economies. For more about this preservation project, see link below
Just outside of Hamilton is Fort Branch, an earthen Confederate fort perched on the high bank of the Roanoke. This preserved fort hosts reenactments and houses a treasure trove of Civil War history. To find out more, see link below.
At the heart of Hamilton's early development, the Roanoke River remains an economic generator for Hamilton and the larger region. Today, the Hamilton waterfront is a prime recreational resource with a NC Wildlife Boat Ramp, observation area, and parking facilities to accommodate visiting fisherman, hunters and boaters. Community leaders continue to develop cultural heritage and eco-tourism initiatives that build on the area's natural resources.
Of course, like many small communities, Hamilton's most precious assets are the warm, generous, industrious people that make up the fabric of the community. It is these devoted community ambassadors that make Hamilton an exceptional place to live, work and visit.  For additional information:  Visit Martin County and Town of Hamilton.